2011
I had in hand two aluminum coins with the inscription "St. Pierre et Miquelon", rummaging through a box of coins from all over the world in a small Amsterdam tourist store. Obviously French: 1 and 2 francs.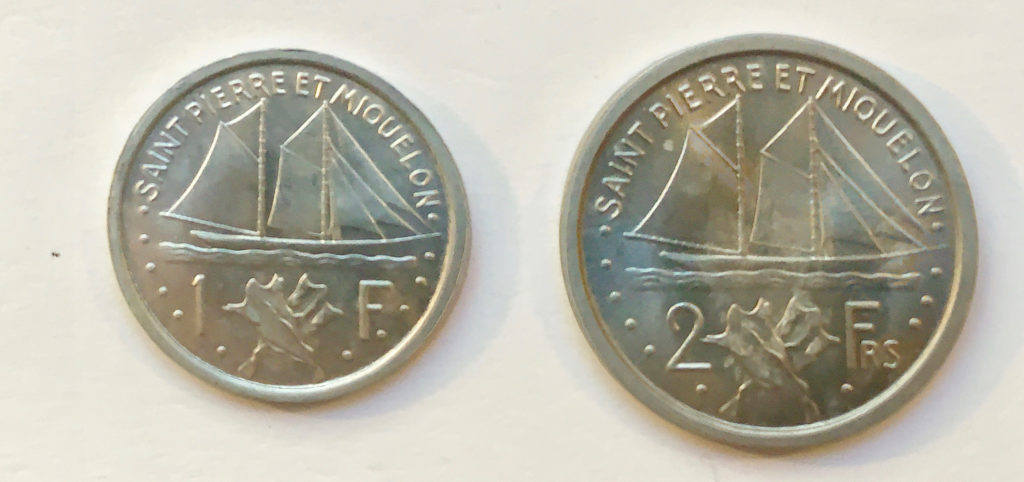 This picture of the coins is from my own collection
It was in the mid-fifties and I was maybe 12 years old – a time without Internet, Wikipedia, and Google. Among other small coins whose writing I could not read, I took these two aluminum coins home – for little money, because there were, as yet, no detailed coin catalogs with prices. My curiosity was aroused! For several years, I first collected stamps, then exchanged the stamps with my brother for his coins, and thus, gradually opened up the distant, alluring world to me. Nobody, neither my geography teacher nor the French teacher, could do anything with this country name. That is how it remained at first, until I came across an old stamp catalog by the Senf brothers, which listed all the corners of the world, no matter how small, where a stamp had ever appeared.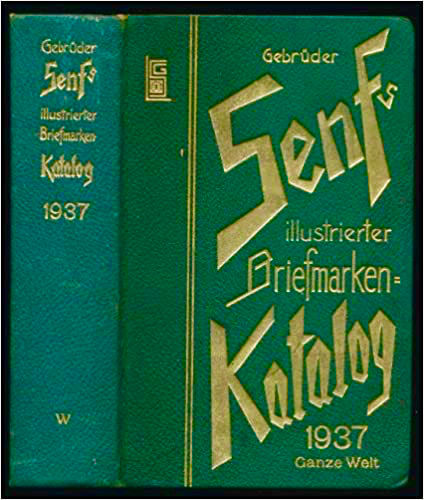 Here, I finally found St. Pierre et Miquelon, a group of islands 25 km east of the Canadian coast and south of Newfoundland. It is a French overseas territory, so today it also belongs to the EU, and it is to this day, all that remains of the former French colony of New France. It is the westernmost point of Europe.
For today's younger readers, this search process (today called research) is hardly comprehensible. Today, such a question can be answered in a matter of minutes via Google.
Subsequently, I continued to search for exotic coins, tried to decipher inscriptions and inform myself about other countries. One thing always remained in the background: I wanted to go to St. Pierre et Miquelon once in my life.
Early on, my longing to get to know other countries was further enforced by my travel-loving mother. With a Beetle and tent equipment on the roof rack, she set off with us children, and often one or another friend was also there, traveling to ever more distant places. Over the Dutch and Belgian North Sea coast and then to the warm south, through France to Italy to Rome. In winter, we went skiing with the German Alpine Club to Austria and the Dolomites. The German urge to go south to warmth, palm trees and blue sea became stronger and stronger after the long war years and the challenging years of reconstruction that followed.
For me, these were casual vacations on the beach and sporty ones in the mountains. But inevitably, in Italy, there were also the first encounters with culture; following the interests of my mother and older siblings, with visits to museums, cathedrals, and the encounter with ancient Rome. In addition, there were more and more personal encounters with people as well as family contacts. This was really something for me and my interest in them.
But it would be a long time before I reached the distant destinations in Asia, America, and Africa, which I had already learned about from my travel fantasies, starting with newly discovered coins.
And then it was almost time to finally get to St. Pierre et Miquelon.
Because of a long existing intense family friendship in Seattle, many trips started there, with different pre- or post-programs.
In 1996 meanwhile, with my own children, I drove from New York to Seattle via the TransCanada Highway and back to the Atlantic coast with the goal of arriving in St. Pierre et Miquelon at the end. Only a few days remained until the return flight, and then, what a disappointment! There was a storm over the Atlantic and there was no guarantee we would make it back in time to the ship. I had a wish that did not come true.
Much later, in 2011, I attended a convention in Toronto, and there was finally enough time to fly to Newfoundland. I booked a 3-day package for the boat trip and the stay on the last piece of France in North America. It takes 55 minutes from Fortune Newfoundland to St. Pierre et Miquelon.
After a quiet crossing, I was astonished at the entry. At passport control we were to be waved through quickly, and they did not want to give me the much longed-for stamp of the archipelago in the passport. This easing of formalities did not please me at all, and it took a little explanation of my heart's desire to succeed. Only then did we realize that as Europeans we were only returning to the EU. The border guards probably thought "Ils sont fous, les Allemands." But I had my stamp in my passport and was happy.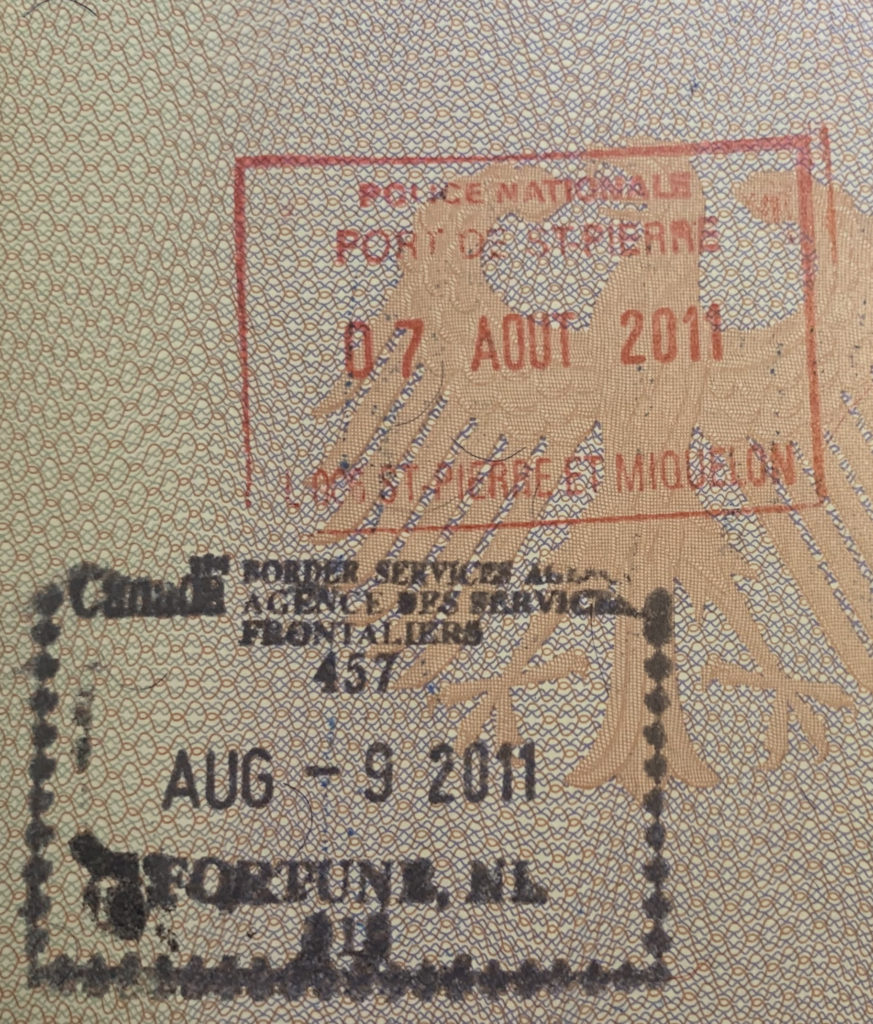 Finally the stamp in the passport
After 68 years, my wish to experience this group of islands finally came true.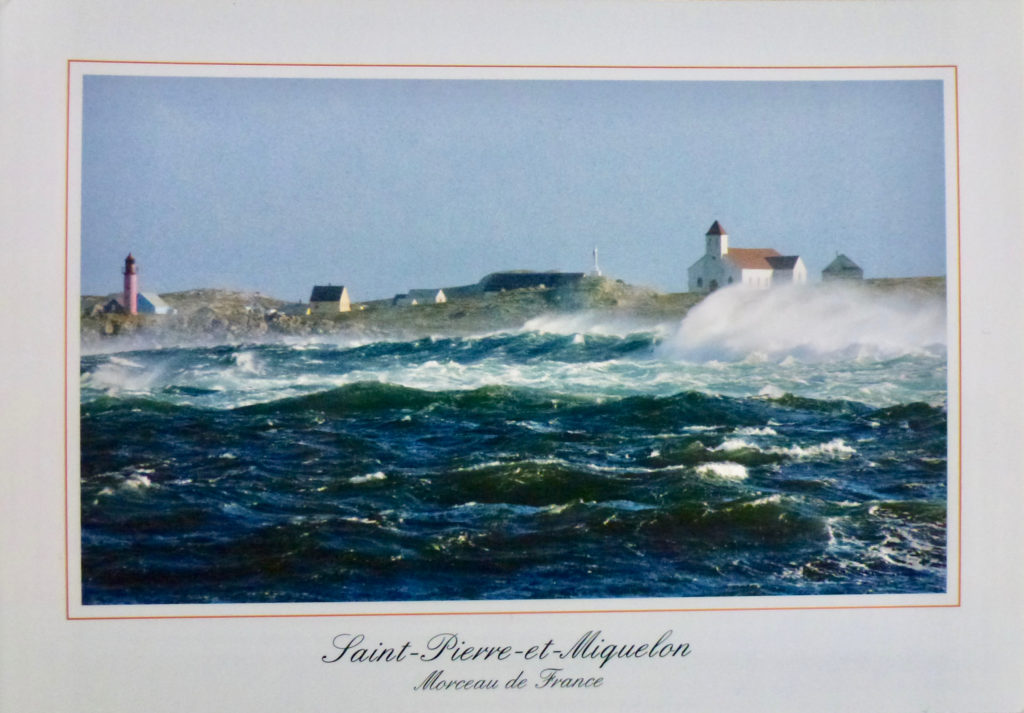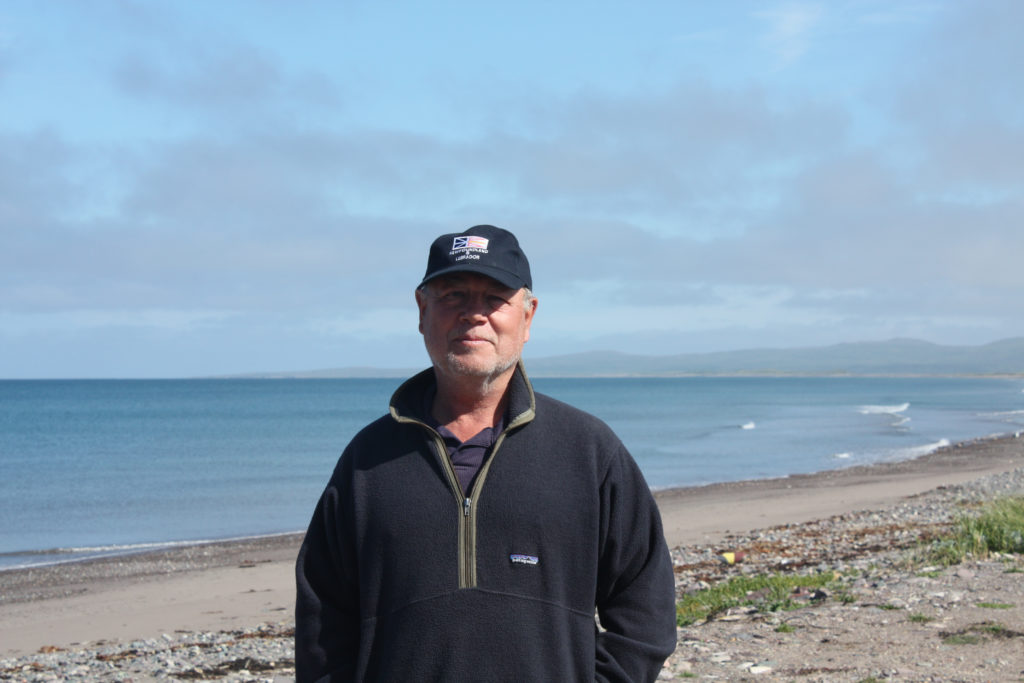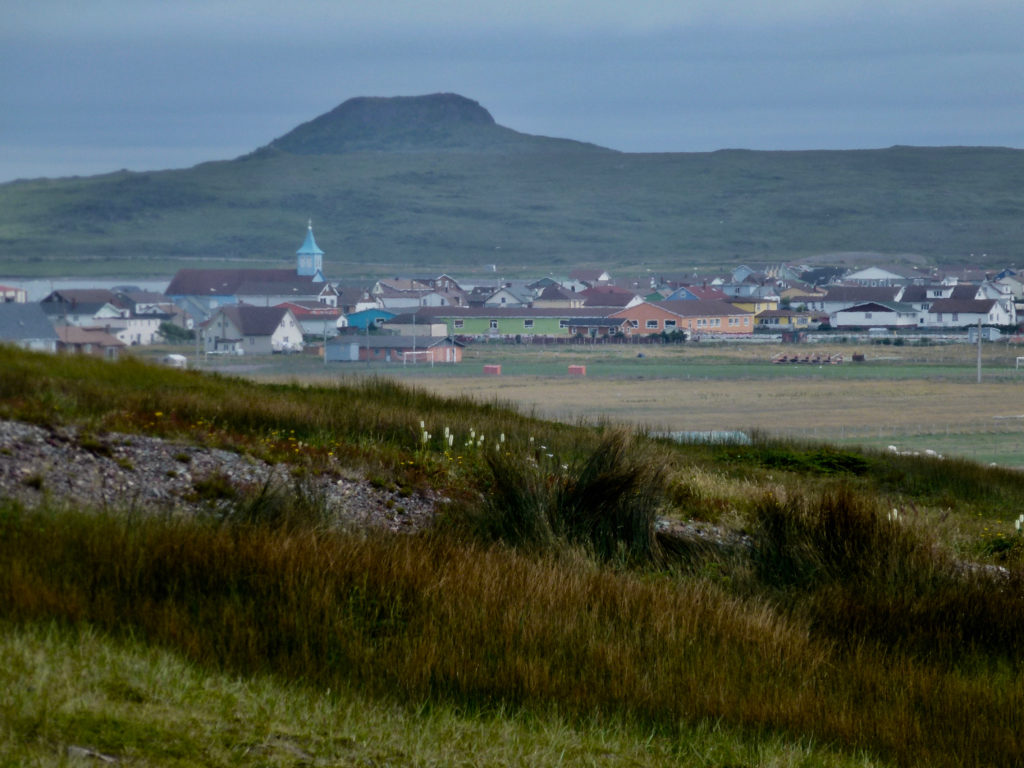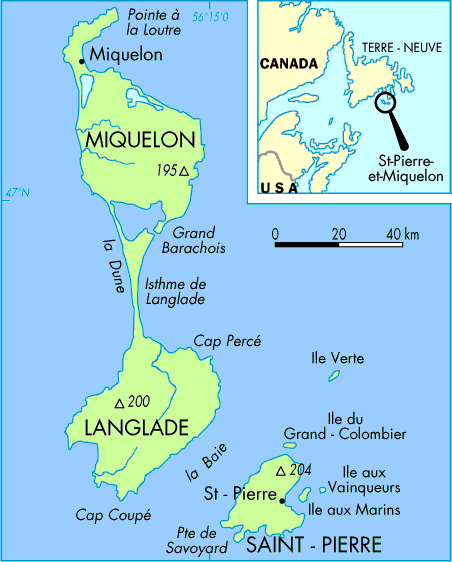 With one step further came the entry into the French world. A Francophile's heart swells with the flair, the stores, the French restaurants, cafés, and the self-evident language. We enjoyed a menu of the additional selection of excellent wines at prices that are unthinkable in France.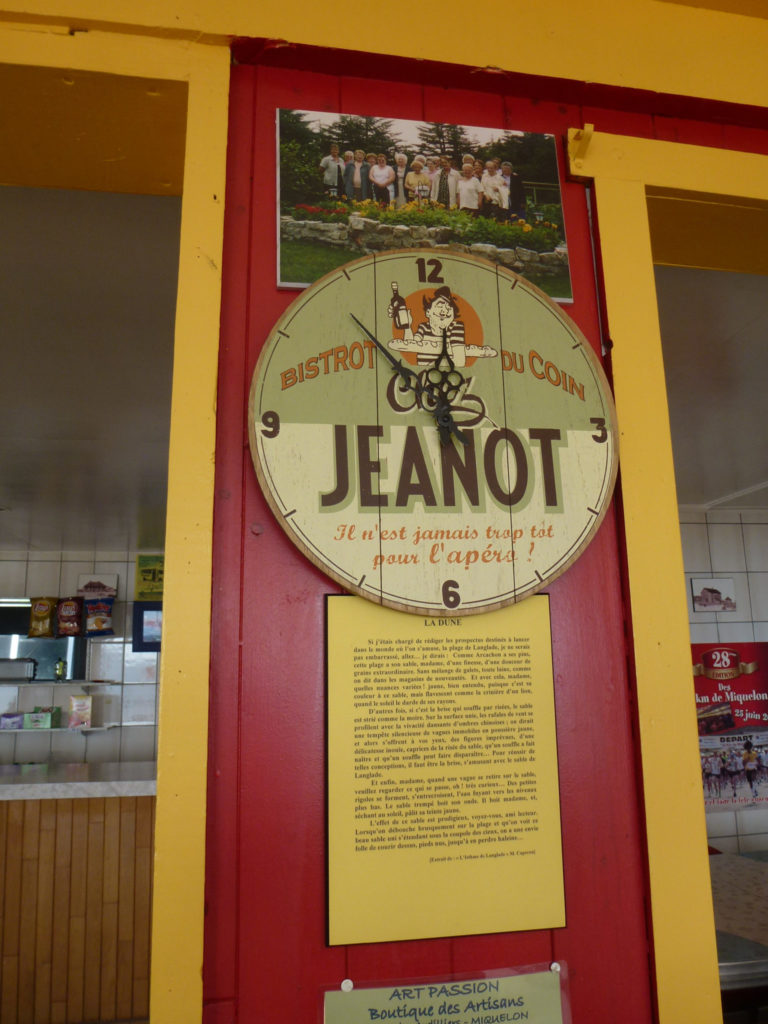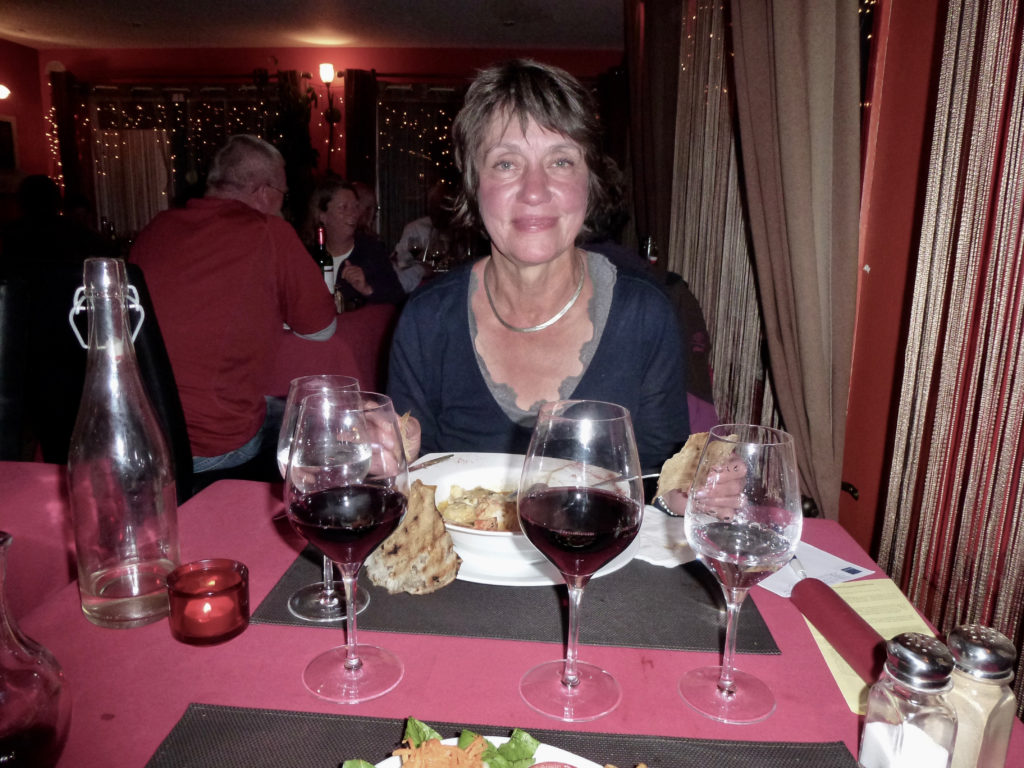 Still, it is not easy to get enough French people to stay in this remote and climatically inhospitable area. French subsidies do, however, make this easier by not having to do without anything familiar from France, from French wine to …
The lonely location on the 45th parallel becomes particularly clear during a trip to the southern part of Miquelon, "Langlade". Here, a cool wind blows over the tall, thin grasses that cover the hilly island country as far as the eye can see. Now and then one can see a long abandoned former country house, and a rare group of horses, which testifies to the fact that nevertheless, one or the other still seems to be inhabited. A stopped time.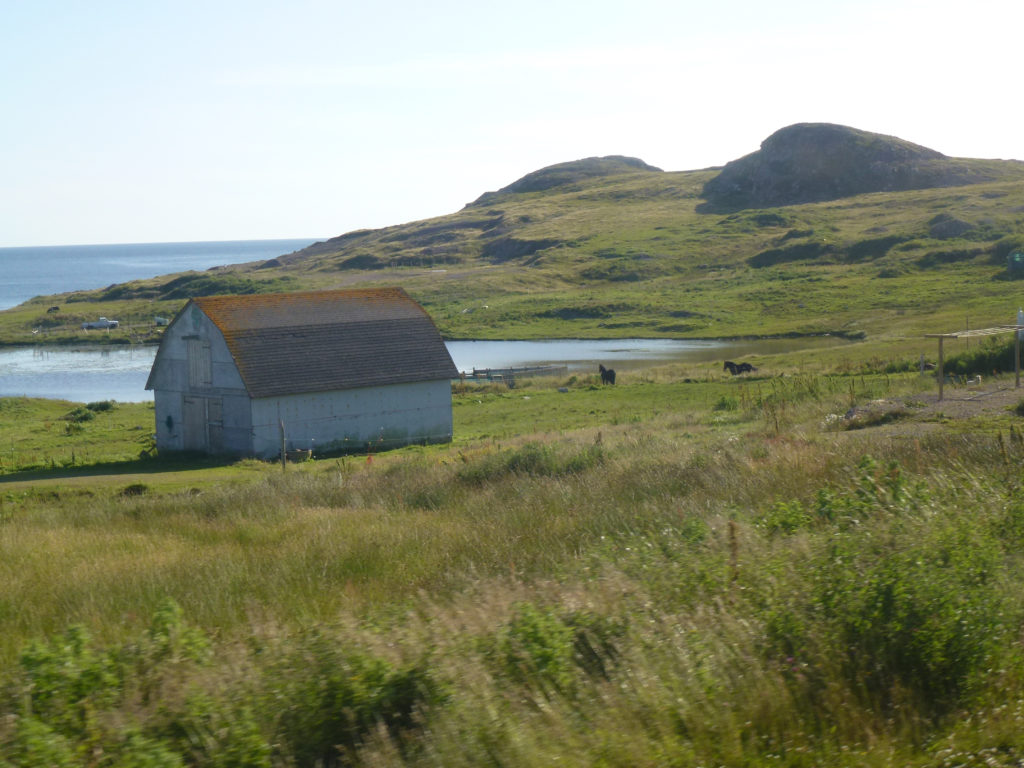 (c) Dr.Burkhard Mielke. All rights reserved.
All pictures © by Burkhard Mielke, all rights reserved, commercial and private use prohibited.
English translation editor : Dr. Marilyn C. Terranova, NY