The Art of Traveling Differently
Asia 1991 – via Singapore, Hong Kong, Macao and Bangkok to Ho Chi Minh City – a fast track in three weeks
They recognize themselves by whatever means. They are unadjusted globetrotters, travelers who get on a plane and, after landing, see what's going on and what they can do. Shortly after being told to unbuckle from the main cabin, they find each other and start exchanging information about places where there are no tourists, how to get there, stay cheap, eat exotic food and discover pristine beaches and remote cultural sites. All this happens with a natural and informal contact with the people of the country, from which again, new tips for further adventures arise.
Now I'm sitting next to my friend Juergen, one of these nomads (not immediately recognizable as such in civilian life) on the plane to Singapore, and I'm lucky enough to experience this kind of travel; at first, still tense, then enjoying it more and more. Our arrival and departure point were thus fixed – everything else resulted from a mixture of desires and opportunities and leads in the end to an unexpected highlight.
Asia for me, has been a long-cherished dream destination, underpinned with a lot of book knowledge, and is now coming true. My first encounter with this continent captivates me so much that I don't know where to look first. Jürgen, experienced in Asia, moves safely through the metropolises of Asia with local means of transportation. I follow him in amazement, absorbing everything around me like a sponge. We land at 9 a.m., book a hotel for one night in the airport and off we go by cab to the hotel and then further by metro to the Singpore River. We followed one of the proven travel rules: get out of the plane and into life, use the short amount of time wisely – you can sleep and rest at night.
The change to the sultry heat slows our steps only a little until the first break at the Singapore River. There is the famous river view with the old trading houses. Here we discover by chance a poster with an advertisement for an exhibition of the HAN Dynasty. So we change our daily plan and have the unexpected luck of getting tickets . Fascinated, we stand in a large hall in front of the warriors and horses from Xian – the first exhibition of these finds outside China.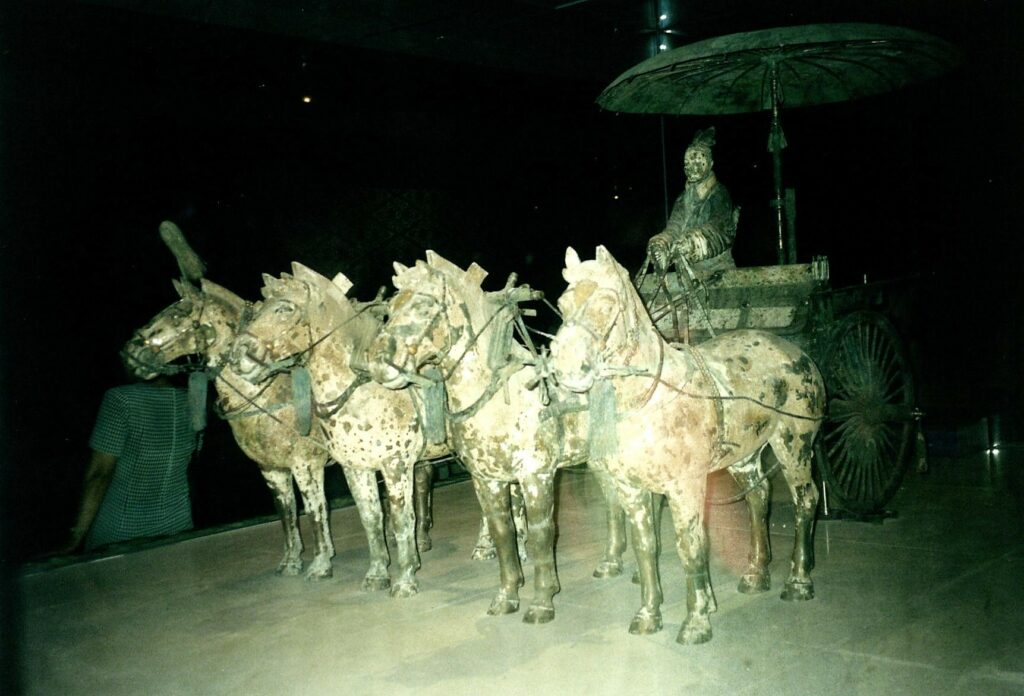 Ten,Ten, Ten echoes over a square, lit only by countless open fireplaces.
After the first exploration of this sparkling clean city, we dive into the romantic scene of blazing fires, seductive smells, and plumes of smoke of the Satay Club in the warm evening air. Ten chicken, ten beef, ten mutton – a pleasure that no restaurant can offer – the atmosphere does it. We eat uncounted skewers together with ice-cold Tiger Beer, enjoying the evening. We then slowly walk past the Merlion, the landmark of the city, to the hotel for the first rest after a long flight.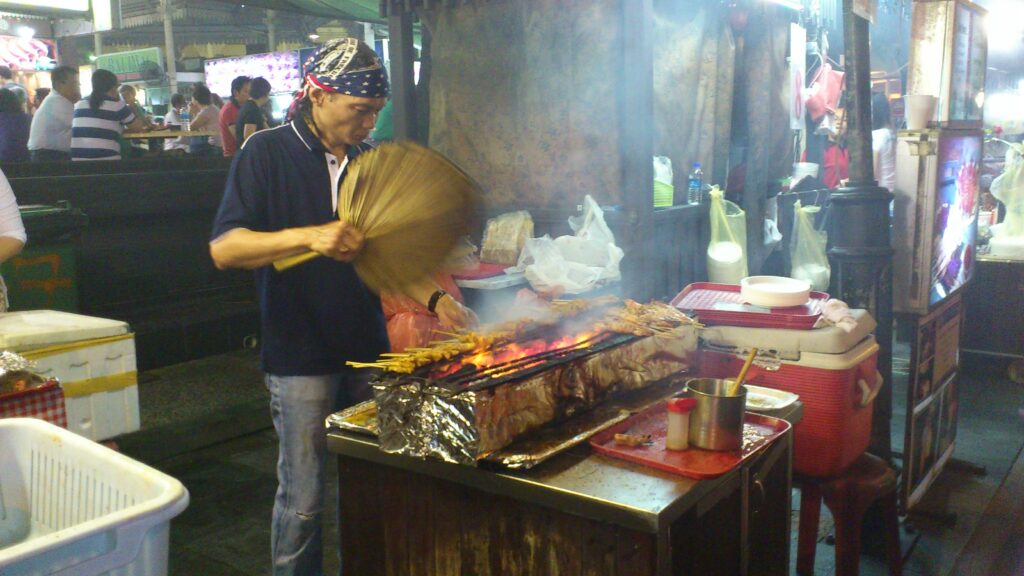 Finally rested, we fly at noon on to Hong Kong. Three and a half hours later, we are in the adventurous landing approach to the old Kai Tak Airport, i.e. straight ahead to just before a mountain, 90 degrees to the right and just above the skyscrapers; almost touching the laundry hung on the roof terraces of the skyscrapers. We touch down on the runway by the sea.
We had hardly arrived, but a look to the sky, blue sky and sun means, according to the travel rules, drop your suitcase and go up to the Peak to enjoy the fantastic postcard view over the bay and the city. Hours later, clouds come up again – it is a matter of capturing the right moment.
Hong Kong, this vibrant, pulsating, never sleeping megacity c takes you immediately into the constantly flooding stream of people and cars. What a contrast to Singapore – a completely different world just a few hours away from each other by plane.
In the evening, when hunger sets in, Jürgen's eyes light up as he takes us not to a restaurant but to Poor Man's Night Club on Hong Kong Island. Loud hustle and bustle, open air and fireplaces all around. Cleanliness? Hygiene? At first sight, not really. A first look around and I say spontaneously: " here I do not eat" the diarrhea already setting in before my eyes. And then it was me who just wanted to go there again the next evening, tastier food you cannot eat and still stay healthy. The old rule, "cook it, boil it or forget it" was found to be true here, by the huge woks over the flames. After several courses and now well satiated, we take the "Star Ferry" for one Hong Kong dollar back to Kowloon and take another digestive stroll through another night market. Temple Street, with its fortune tellers, palm readers, small stages with Canton opera performances, majong playing older gentlemen (already prepared for the night in plain pajamas and slippers), countless stalls.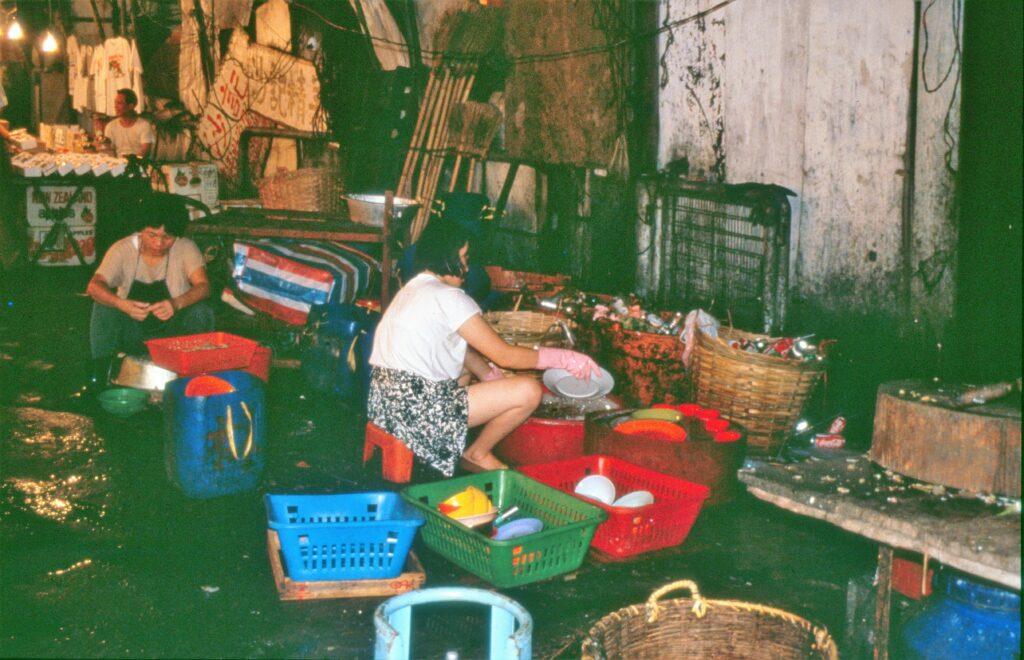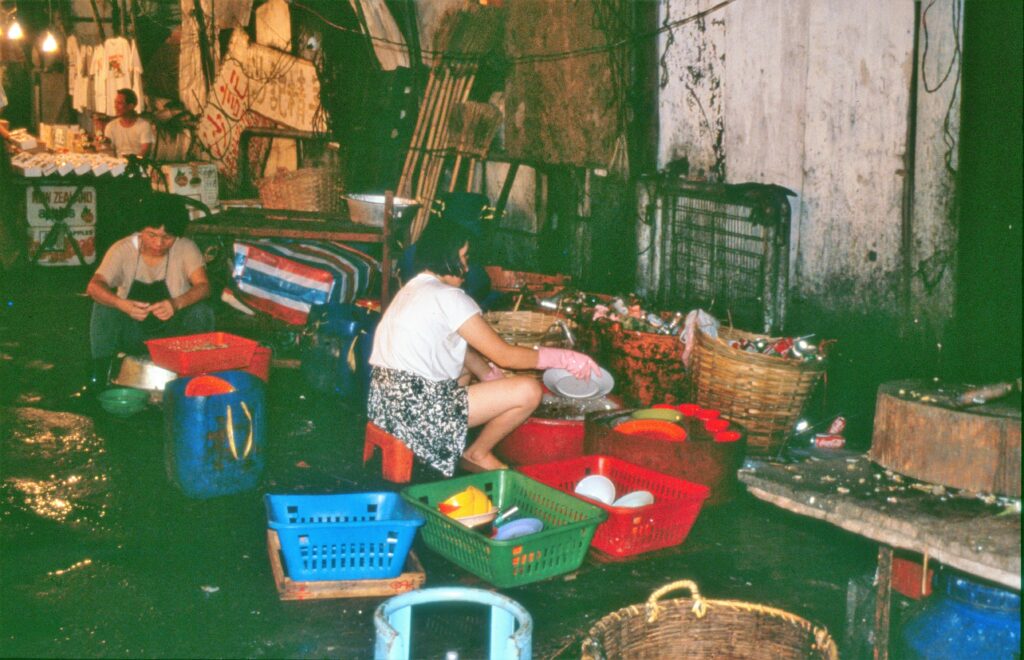 We had a ferry to Macao, which we spontaneusly booked for the next day, and it went only when another rule for Asia was observed. Toilets could only be used during the day in the hotel when only on tour. We took the normal boat with the locals, the speedboat taking those in a hurry as well as tourists. Soon I realized why. Shortly after leaving the territorial waters of Hong Kong, there was a huge metallic noise on our ferry – not from a collision but from hundreds of slot machines (forbidden in Hong Kong) rattling down the grids. Almost everyone on board rushed to the devices for a few hours of pure gambling. Macao, the Portuguese lease area is interesting to see, but above all has the Las Vegas flair of a were rather boring, but at sea, there was the Floating Casino, an adventure to be had. A whole other clientele squatted there, strictly supervised, at the gaming tables, deeply bent over, with unknown old Chinese playing cards close in front of their faces, briefly at the edge, lifting, safe from glances from wherever. We had a feeling like in a Mafia film. At the doors, on the matted ancient carpets, stood the old spittoons, relics from former dynasties, used unerringly. We can't stay too long, eyed suspiciously from all sides as "long-noses," a kind of discreet expulsion.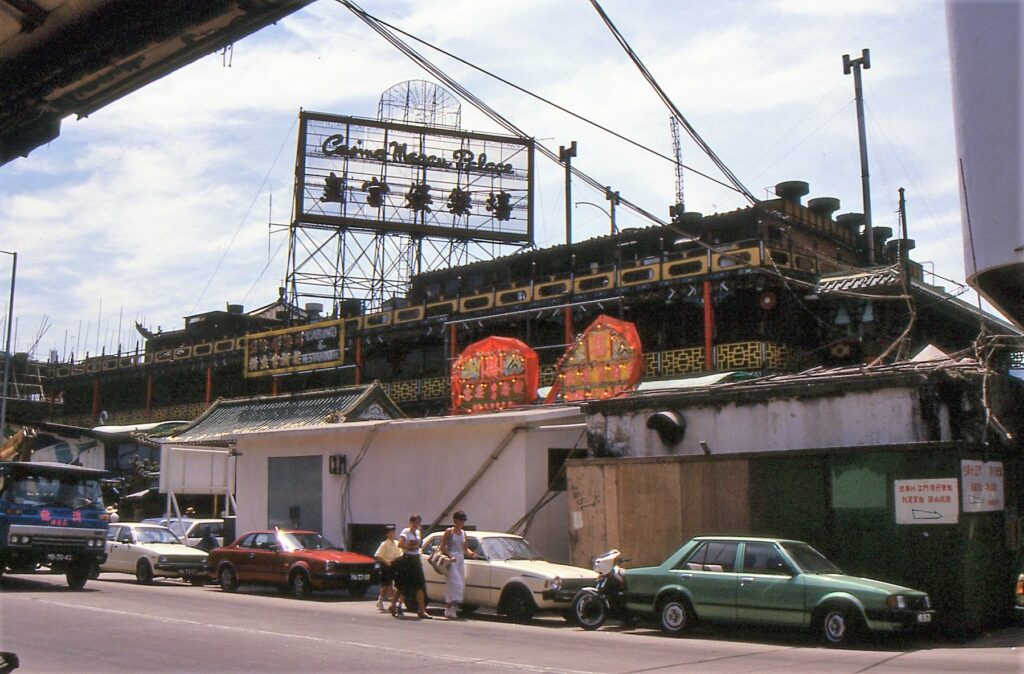 We went on to Bangkok where, after visiting the main sights, we went to a small travel agency known to Jürgen, from the past. We hand in our passports (I didn't think we'd ever see them again) and asked the head of the Exotissimo Travel Bureau to find something delightfully adventurous "off the beaten tracks" for us in Indochina: still absolute terra incognita for tourists in the early 90s.
We took a bus through heavy traffic to the coast to Ko Samed, a small island in the Gulf of Thailand. We left our heavy suitcases in a large hut on the beach. Here I have, probably for the last time, a feeling of insecurity, e.g. never to see the luggage again. This different way of traveling had increasingly become part of my understanding of travel. We get into a small boat and go to an island without tourism for absolute beach recreation. At the jetty we are greeted with a chalk board by the proud owner of his first cell phone. Our cabins could be booked using his phone for the first time. This was a dreamlike time for us; sleeping on bamboo beds took some getting used to, though. The most beautiful experience came the next morning. The islanders on our side of the island, women in colorful dresses, went into the sea at sunrise; and we stood with them up to our necks in the warm water, blinking at the early sun. A last paradise, but unfortunately already endangered: On our last day, a first boat with day tourists from Bangkok docked…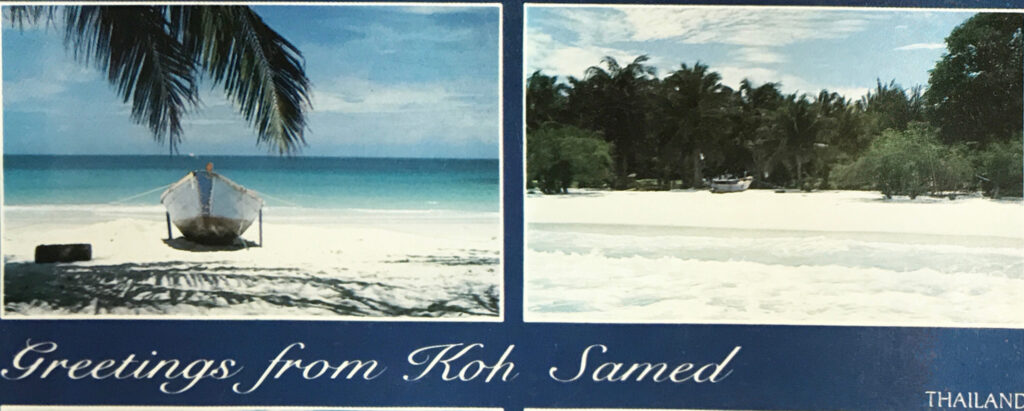 .
Back in Bangkok, the head of the travel office saw us coming and waved our passports. Beaming, he announced to our total surprise that we are among the very first foreigners who can enter the country after the Vietnam War. Proudly, he hands us a three day visa and ticket for Ho Chi Minh City (Saigon). We can hardly believe it and we don't have much time left until our departure. We drop off our luggage in the "left luggage area " and fly off with only the bare necessities.
We are picked up by our guide, a line loyal deserving member of the CP of Vietnam, and were taken to a hotel. During the ride we received clear instructions about the itinerary and a map in which the districts are marked where we are not allowed to go. Years after the end of the Vietnam War, Vietnam is cautiously opening up and one feels far back in time.
After a (guaranteed not the last) epicurean tasting in Saigon, we let tricycle drivers drive us through Saigon.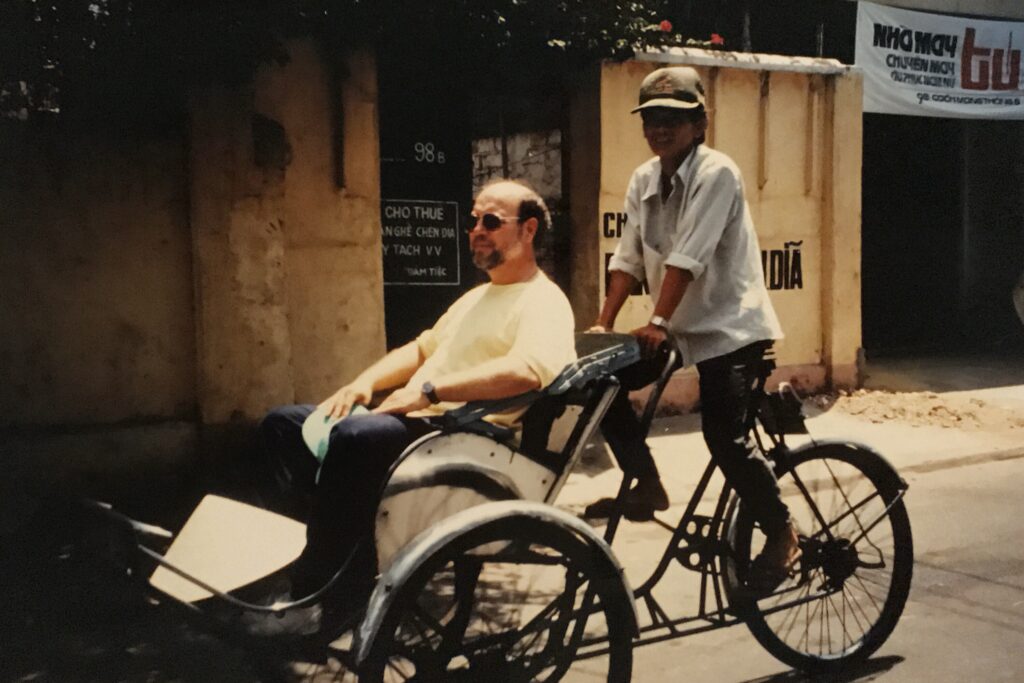 The streets were teeming with bicycles, mopeds, rickshaws, a few cars and people in constant motion. It was frightening to see how thin and emaciated many people were. But everything works without accidents in this hustle and drove into the horrors of the Vietnam War. We went past burned out tanks on which children play and shot down helicopters. We go into the war museum. The photos there and the disfigured fetuses in glass containers as a result of Agent Orange and napalm bombs make us freeze. What we see there is almost unbearable and continues to have an effect on us for a long time.
The next day we drive overland with our guide, past picturesque rice fields and thousands of ducks that are brought in trucks and plunged into the submerged rice fields for natural pest control. Our destination is the famous tunnels of Chu Chi, whose entrances are so well camouflaged that we cannot find them despite an intensive search. They are being prepared for tours and it is an oppressive feeling to crawl into such a tunnel. The corridors located on three floors held everything the Vietcong needed; there were also kitchens whose smoke was directed in such a way that it appeared kilometers away and was bombed by the Americans without causing any damage. Perverse, however, was a shooting range set up as a foreign exchange earner, looked after by partially amputated Vietcong. One could shoot there using the old weapons of the Vietcong. We politely declined the offer. On the way back, we pass the American embassy, where in a panic the last American soldiers and embassy staff escaped in helicopters from the roof just ahead of the invading North Vietnamese troops.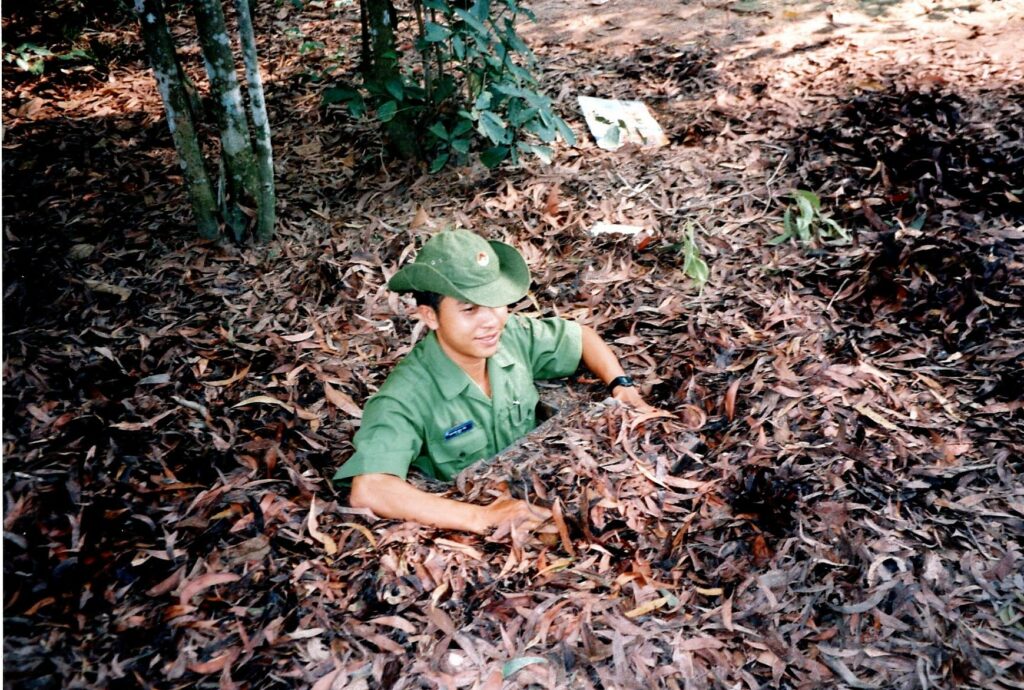 Afterwards, we returned to the streets – unfortunately we again experienced the confrontation with the victims of the American bombardments: arms and/or legs amputated, war invalids, who crouch with their remaining bone stumps on cardboard boxes, laboriously begging for a small alms…
I have experienced, through other travel, the courageous determination to do extraordinary things when it becomes unexpectedly possible. To experience special places at a unique time, small windows of opportunity are often closed again in a hurry. This has been one of those special opportunities that opened up to us on this trip.
There were still a few hours remaining to us today in Ho Chi Minh City and we escaped our leader by the supplier entrance. We rented a Tricycle and the driver drove us into the forbidden districts, with cellar vaults where art treasures from temples were hidden; to a market, from whose labyrinth we would have never found by ourselves. He did not wait outside but accompanied us, unnoticed by us. At two points. he told us to go on and so gave us the security to enjoy this runaway trip and then return with a guilty conscience to our guardian. The slight panic on our guardian's face slowly disappeared from his face when he saw us arrive. To reconcile, we invited him in the evening to a "dinner cruise" on the Saigon River; there was a tiny kitchen on the lower deck, where sweaty cooks prepared freshly caught seafood for us in the wok. While they cooked, we could look on the upper deck at the transport boats on the quay, unloaded not with cranes, but with pure manpower. These men are known as coolies, and balanced on swaying planks with rice bags weighing tens of kilograms on their shoulders.
Vietnam 1991, what an experience! A trip that shaped me for the future.
(c) Dr.Burkhard Mielke. All rights reserve
All pictures © by Burkhard Mielke and Jürgen Steinmeyer, all rights reserved, commercial and private use prohibited.
English translation editor : Dr. Marilyn C. Terranova, NY