Safari in Tanzania, February 2016
Our encounter with the Serengeti ("the infinity" as driver Steven translates the name for us) starts with a bang: Shortly after entering the national park, we come across one of the most fascinating events you can encounter here: the "Great Migration", the big wildebeest migration that starts every year in February/March. More than 1.7 million wildebeest, 250,000 zebra and as many different species of gazelles are on the move together.
Being on the road for them means all day running, running, running, and in the early evening swarming out into the whole plain to eat, eat, eat for the route of the coming day. During this time everything must happen that brings rest and new strength as they exit the sun scorched earth moving into into the still fresh grasslands and northern waterholes. They are always on guard against the predators waiting for them, which in turn fight for daily survival.
We want to enjoy this spectacle forever, but we have to go on, dawn is beginningto dawn and the lodge is waiting. There we exchange with other groups and enjoy this unexpected experience with cool Serengeti beer, not suspecting what the next days would bring.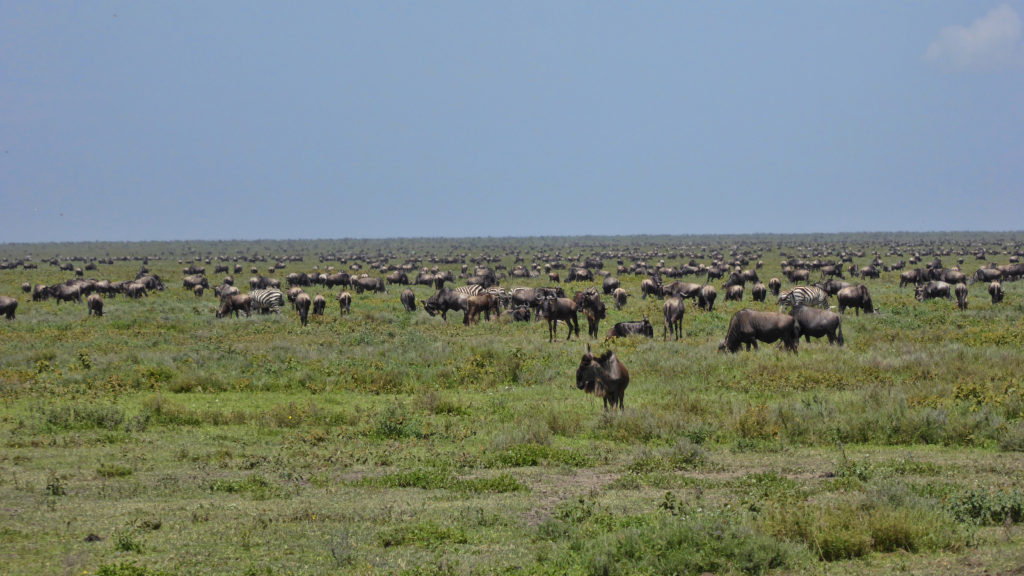 During the next few days, Steven drives us on red, bumpy sandy roads at a speed of 30 through the unique landscape. There are few places in the world where the savannah serves as a habitat for such an abundance of diverse animals: giraffes, herds of elephants, small and large wild animals, families of lions right next to us, leopards and countless colorful birds of all sizes. One cannot get over how amazing it all looks. And then our driver suddenly stops, and while we are looking in all directions in search of one of the Big Five, he shows us in the middle of the track a small pillbug, which rolls a huge ball backwards over the track; in which later a female scarab will lay her eggs.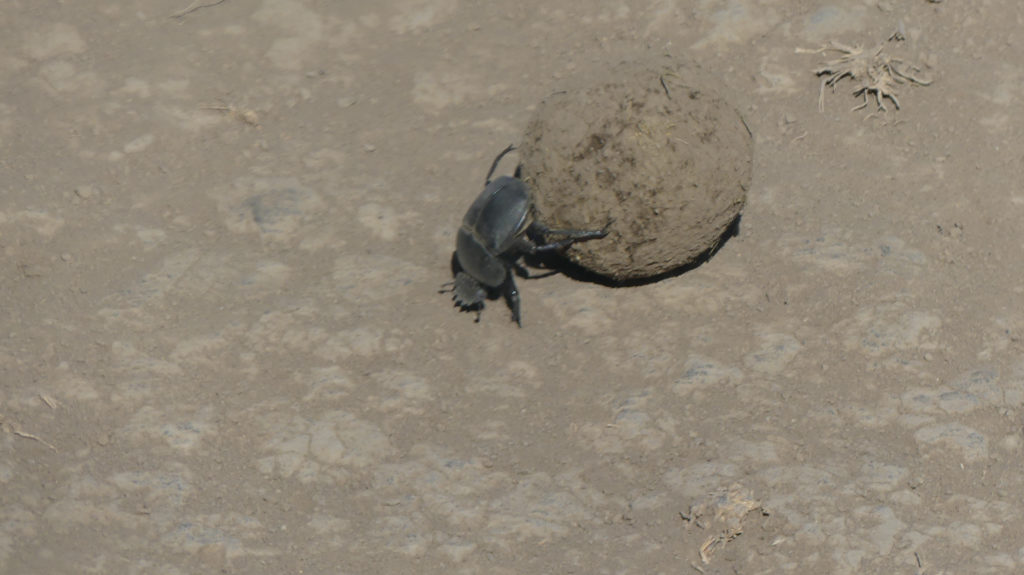 Where we see only trees, Steven shows us lions and leopards lying in trees drying their soles because of previous rains. He predicted that a bouquet of birds was about to "delouse" in the hot sand and so it goes on…. This shows us what is the most important thing on a safari – a good driver and guide, who knows the fauna and flora of his country and lives in its entirety and thus has a special view into nature. From him we learn that besides the "Big Five" there are also the "Little Five", named after the five big brothers: Leopard Tortoise, Buffalo Weaver, Rhino Beetle, Elephant Shrew and Ant Lion.
Without the small creatures, the big ones would not exist, such is the way of nature. Steven also showed us a colony of vultures at a carcass. One after another, such different animals, large and small, use their tools to fill their roles in this process of becoming and passing away.
Two days and many thrilling experiences later, we are on our way to leave the Serengeti again, because the famous Ngorongoro Crater is our next destination. But there was still a surprise waiting for us. We meet unexpectedly a second time on the train of animals. Unbelievable! Steven had exchanged information with other guides and learned where the animals have moved.
We see them again! Still in some distance away, thousands of wildebeest run (with some zebras in between) as a dark mass of lumbering bodies, and we come closer and closer. Immediately before us the train crosses our track and we have time to enjoy this spectacle. The animals trot along in a seemingly endless line, only to take off abruptly for a while. Something triggers this reaction in a single wildebeest, and the herd instinct then sets them all in motion.
For a picnic lunch we stop in the shade of a large umbrella acacia and a dream comes to life. All around in every direction on the horizon hundreds of thousands, maybe millions of animals can be seen, striving northward.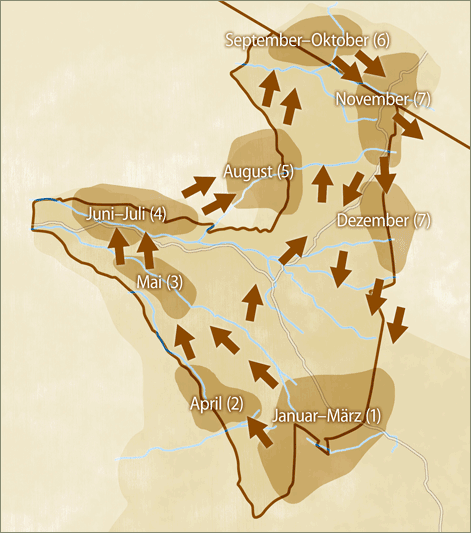 The beginning and end of the train are unrecognizable now; the row of the animals extends from horizon to horizon, like a primeval force and we stand in the middle of it. Steven stated "You are very very lucky to be able to see this".
The engine starts and our driver carefully makes his way through the mass of migrating animals and starts the journey to the Ngorongoro Crater, passing the memorial stone to Michael Grzimek. But really, we know that nothing on this trip could be even remotely as impressive as the migration. That must have been the highlight, everything else was just bonus. And so our trip into the crater started with drizzle and ground fog, but it quickly cleared with the first rays of sunshine. And suddenly we are standing in front of one of the last 50 remaining black rhinos in Tanzania.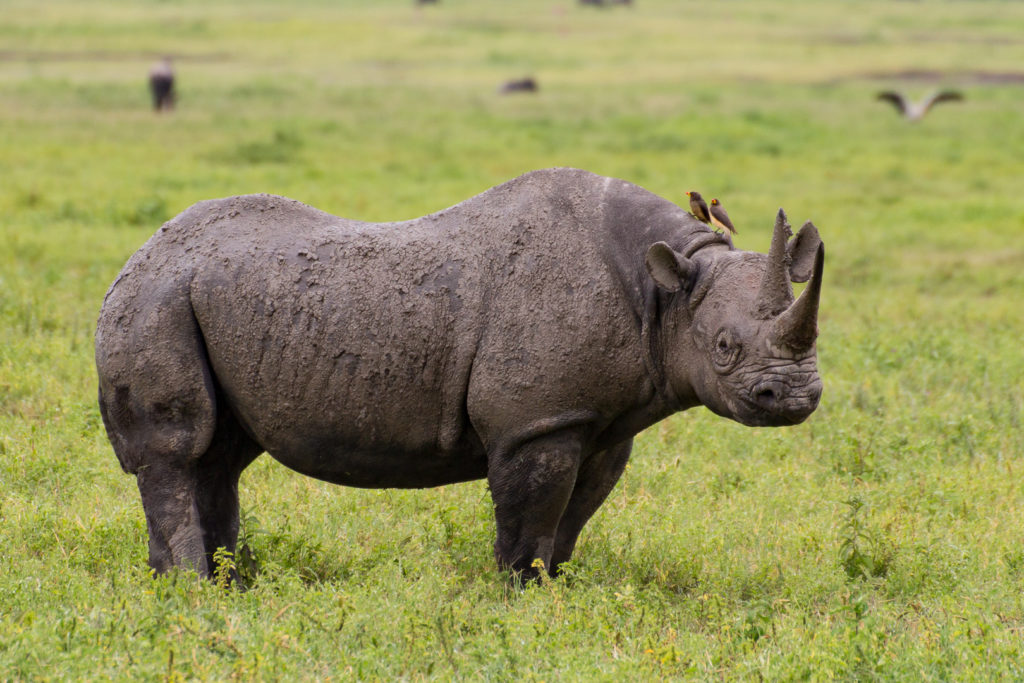 As if this had not been enough safari luck, we still experience the most emotional event of this trip for me – at the exit of the crater. Again the car stops suddenly and then we realize why. We are standing just a few meters away from a wildebeest and Steven tells us that the birth of the calf was imminent, indeed would begin in less than 10 minutes. None of us would have noticed. While the other animals continue to walk, the wildebeest cow lies down, several male wildebeests stay next to her like a protective guard. Then we also see the growing contractions. She stands up again several times, changes position, lies down again and then the birth begins.
A moment of complete silence occurs, a brief moment without any click of a camera, complete fascination and emotion in the face of this miracle of new life, so normal and natural and yet touching the vulnerability in nature and security in the herd.
I was so moved by this birth experience that, contrary to my usual photographic behavior, I did not take a single picture during the entire birth process and only noticed this when everything was over. How nice that my friend Jörg, mainly responsible for the telephoto shots, has taken over these close-ups for me.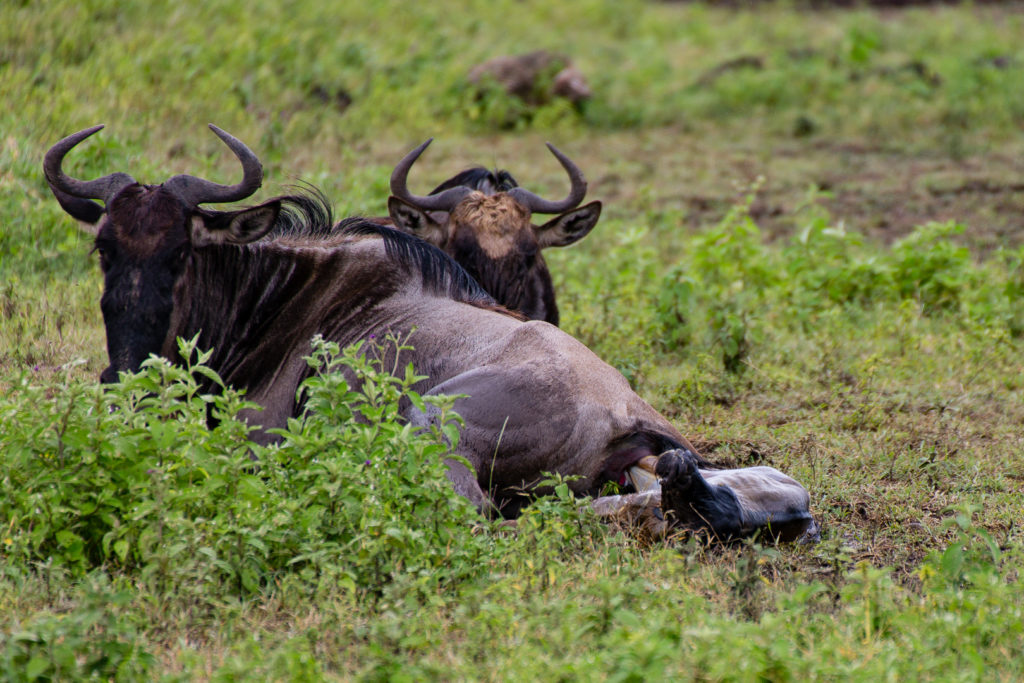 The newborn falls out onto the ground, It struggles out of the shell of the amniotic sac is licked free and nudged, gets up, get on its own legs. The baby falls over, is nudged again, get up and fall over again with fragile legs The newborn gets up again and drinks, then the mother turns around and runs on. The young must run along to survive. The birth must happen quickly, the newborn wildebeest must immediately try to get to its feet, and then run along with the mother under the protection of the herd, because it is already circled by hyenas and other hungry hunters lurking for prey.
Nothing is easier prey than a newbor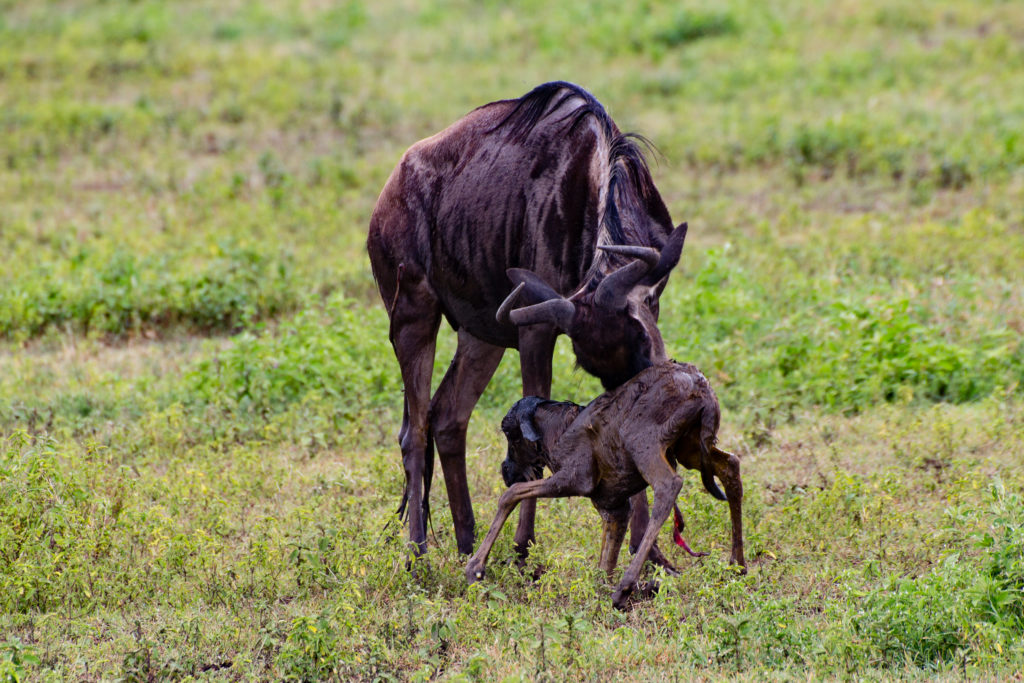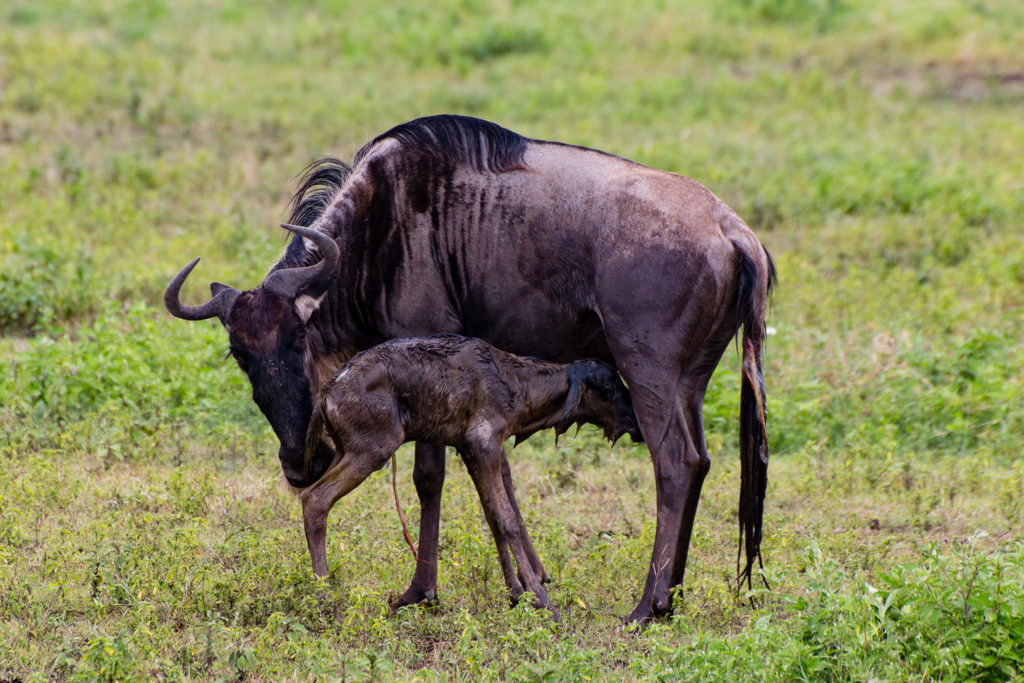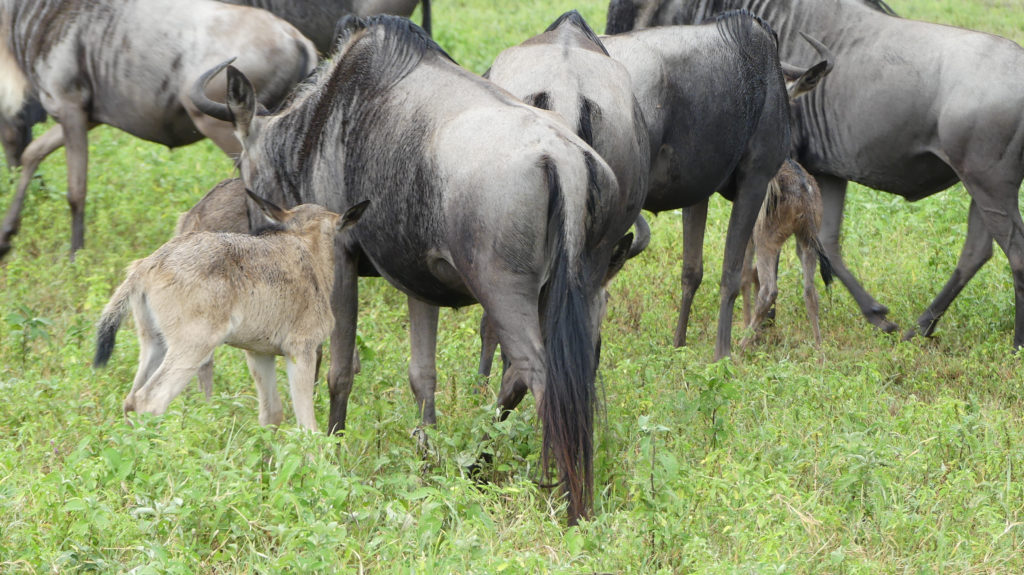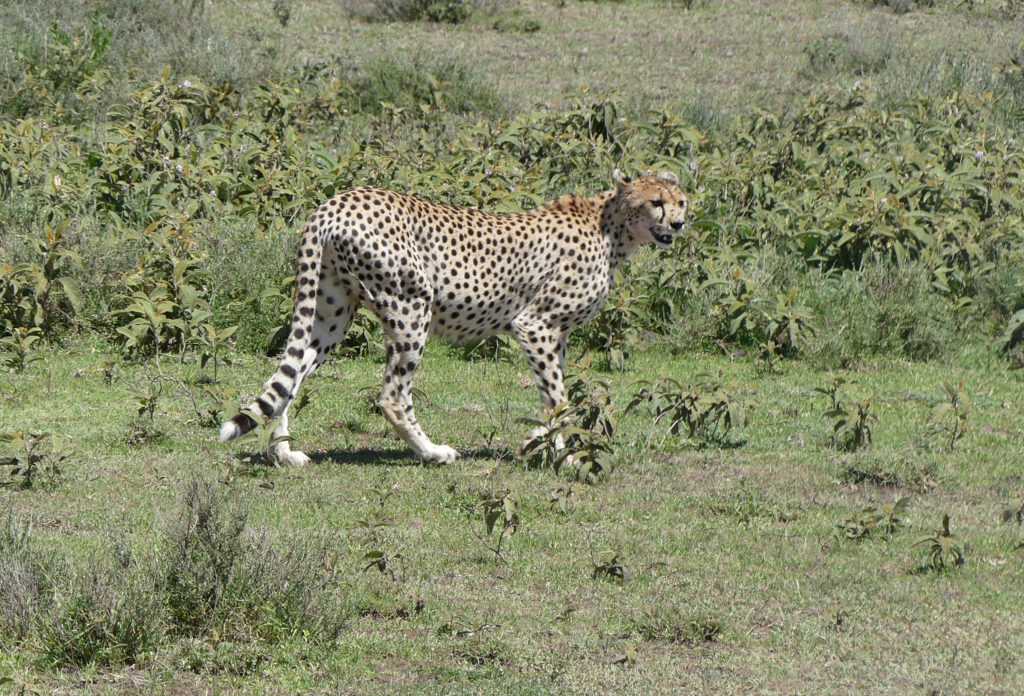 While we have experienced the birth, we learn from the second group, that evening, about the hunt for and the death of another newborn wildebeest. Birth and death, eating and being eaten, as a natural sequence of life, takes place here at any time.
This direct experience of the greatness and wonder of nature and the realization that everything is interconnected, relativizes the belief in human superiority: this leads back to the realization that we are only a part of this cosmos, only a part of becoming and passing away, while the world continues to turn unaffected by it. We realize that only Only that man has the ability to think and to decide between the possibilities to live in harmony with nature or to subordinate everything and thus destroy nature, our habitat and our future.
(c) Dr.Burkhard Mielke. All rights reserved.
All pictures © by Burkhard Mielke and Jörg Neidig, all rights reserved, commercial and private use prohibited.
English translation editor : Dr. Marilyn C. Terranova, NY