Germany and Vietnam – A Journey with Thomas Billhardt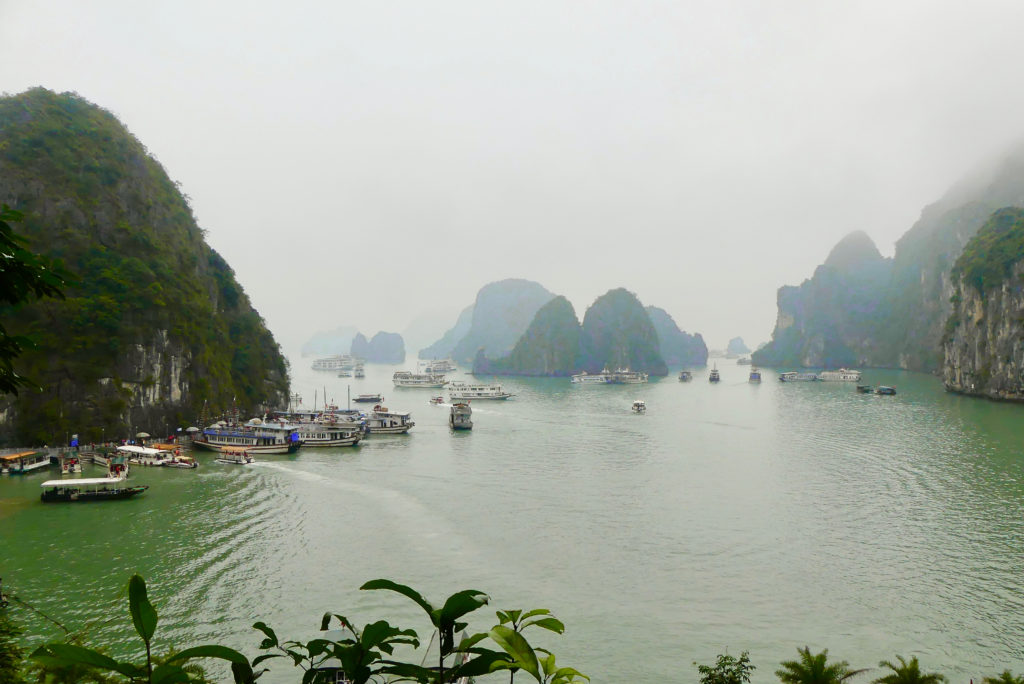 Vietnam, Halong Bay, 2019. It is a warm, summery night. Reflected on the water are the lights of other boats that, like us, have anchored for the night in this romantic spot. Dimly, you can see the cone-shaped and forested limestone islands that are characteristic of the bay.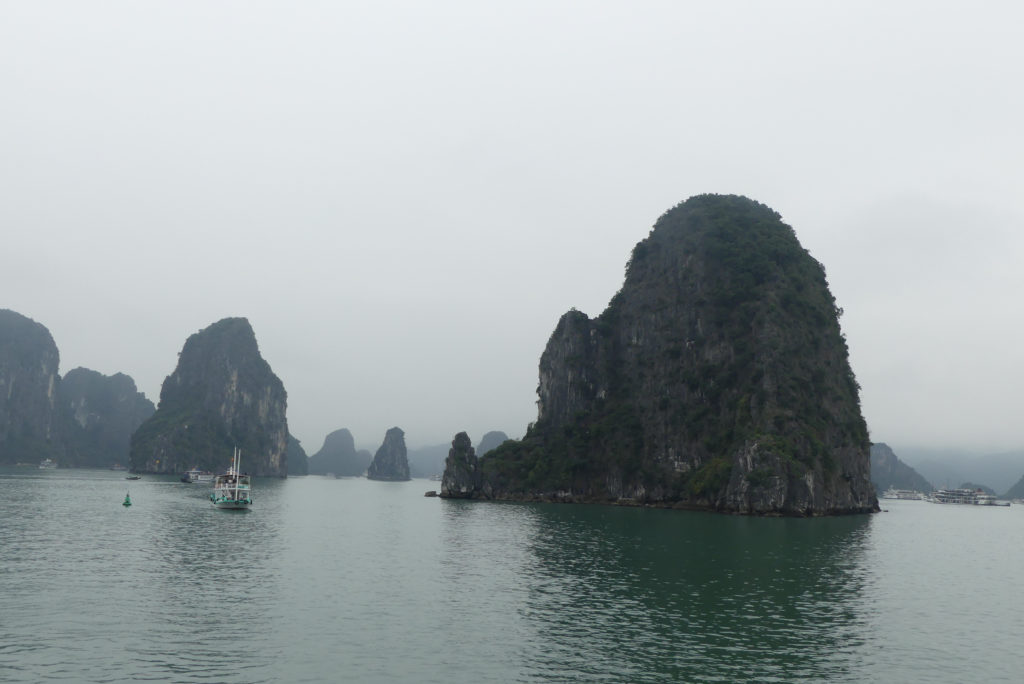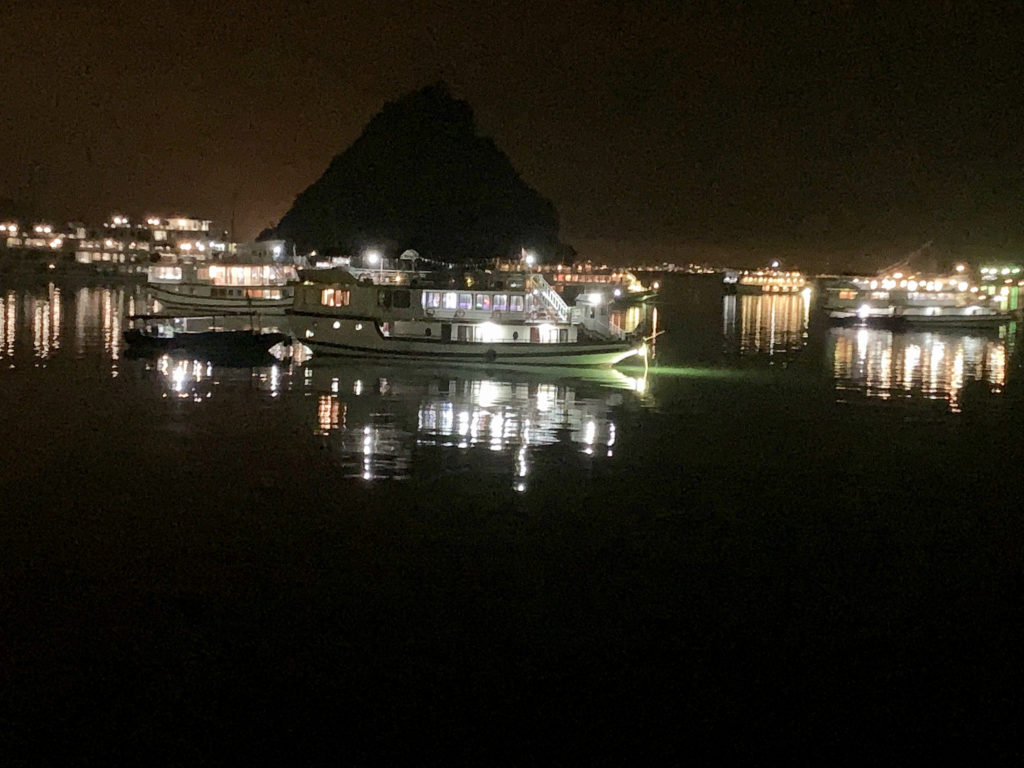 After an eventful day in this fantastically beautiful environment, we sit on deck with a glass of wine and talk about this bay and how it may have been even more beautiful years ago, without many visitors.
Then a sentence breaks the silence: Now we sit here and talk to each other normally". After a short silence, we toast and know that in this sentence all that has brought us here flows together and is brought to the point. The inviting travel flyer, which had aroused our interest at the end of a conference in the Rosa Luxemburg House, the announcement of the trip, and commentary on the trip by Thomas Billhardt, former GDR photographer and contemporary witness of the Vietnam War. Even though we had never heard of this photographer, who is known and appreciated in many parts of the world, we expected a knowledgeable travel companion and versatile insights into contemporary life in what was then North Vietnam. And so it was. Our first meeting with Thomas Billhardt had to wait, however; he had already flown ahead to receive us in Hanoi.
Billhardt had become famous for his reports from Cuba and his presence during the Vietnam War. The entire West, where we grew up, inevitably knew the image of photographer Nick Út (The terror of War), the burning, naked little girl screaming in pain as she fled from more American napalm bombs;the pictorial indictment of the war in Vietnam. But none of us knew the photo "Love in War" by Thomas Billhardt; a pair of soldier lovers with shouldered guns, holding hands, walking towards a lake. On one side, the horror and on the other side, in the midst of daily horrors and death, love and hope for a future without war.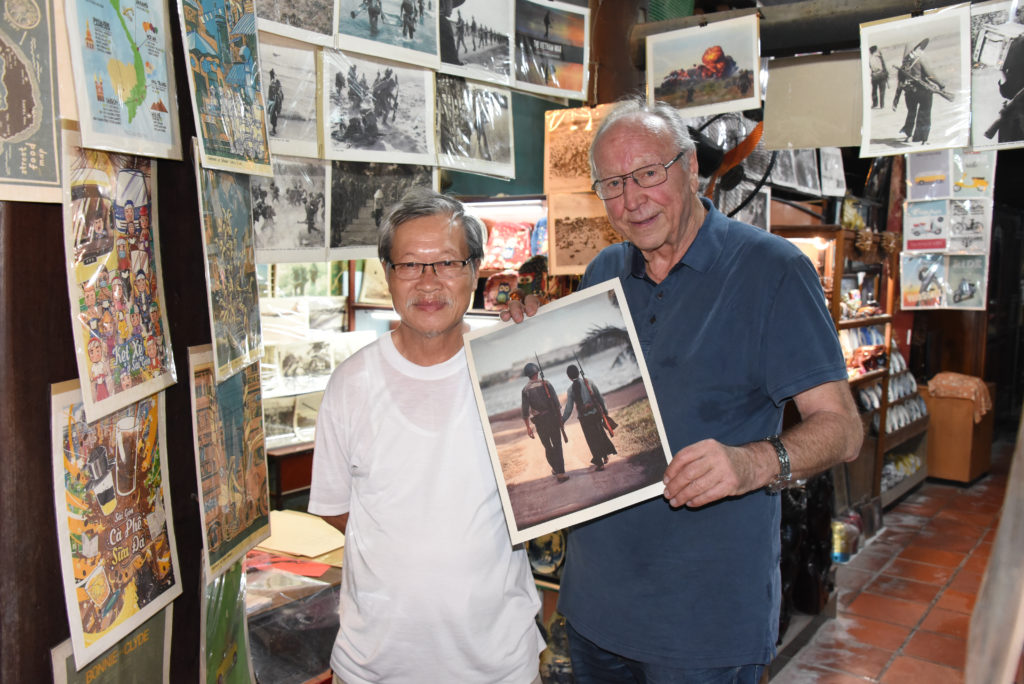 The picture "Love in war" – found in a store in Hanoi
So it was no coincidence at all that the travel group, apart from my travel companion and me, consisted exclusively of fellow travelers from East Germany, who of course knew a of Thomas Billhardt, as well as connections with North Vietnam. It had become clear to us, gradually, that this was a booking not usual for us. A booking with a travel agency from the former GDR: the exclusive reader journey of the "new Germany", the journey with a departure from Berlin Schöneberg with Aeroflot over Moscow to Hanoi. It became clearer with every traveler we talked to, that they had all grown up in the former GDR and still lived there today. and that We were nevertheless travelers together who, in this moment of sitting together in Halong Bay as a matter of course, realized how this commonality had been taken for granted for a long time, even long after the fall of the Wall. And This realization of normality happened on the fifth evening of our common journey, and a great openness and interest for each other developed.
The central experience of this trip from North to South in Vietnam was our travel companion, Thomas Billhardt. Every day we heard stories from him about his adventurous and often life-threatening assignment as a photographer in Hanoi. Because of the preparation of an exhibition with the Goethe Institute in Hanoi, he had his photo books with him which documented this difficult time of the bombing of Hanoi. The pictures of little boys seeking shelter under the manhole covers were particularly moving. The poignant descriptions were also so impressive because they were told from his own direct experience, without any hint of ideology, as an account of human life during this time in North Vietnam, of which we knew little. Equally captivating was his own life story, which made him a wanderer between the worlds of East and West. He had been sent to Cuba as a photographer for the government of the GDR and, what everyone did not know at the time, he did not disappear during a stopover in Canada but returned to the GDR. From then on, he had the opportunity to come to the West at any time. He was now considered "reliable" and his fame – furthered by his appointment as a children's photographer for UNICEF – made him pretty much untouchable. This continued until shortly before the end of the GDR, where he was in danger of losing his photo archive. He was able to bring it to safety in an adventurous way.
East-West contrasts from old times to new, and their continuation stories occurred again and again on this trip. Two Vietnamese guides, both with wartime and postwar experiences of Germany, experienced two differentworlds. The guide of the first week had studied mechanical engineering in the GDR while the war raged at home, not entirely without a guilty conscience, but with a loyalty to old economic contacts and knowledge transfer. The second guide was a former refugee, illegally in West Germany, and in constant fear of being tracked down by the police. He was without papers and feared being deported home, which indeed he was not spared. He would like to visit his German friends again, with whom he is still in contact today, but he would not want to live in Germany anymore. He sees his home in today's opening and developing Vietnam.
And so We moved through the country from north to south with an incessantly photographing travel companion, who in the evening already began to delete the less successful pictures. We learned about his first exhibition in Hanoi with large outdoor picture panels, and Billhardt reported that many came there who had been photographed and had survived the war. We discovered Hanoi differently than on a usual tourist trip: rode bicycles through rice paddies to a small village to cook Vietnamese food under the guidance of the villagers; attended a performance at the famous Lotus Water Theater; learned about Cham culture; experienced the adventure of a night train ride south to the ancient imperial city of Hué; and went on to Danang and then, to what for me is probably the most beautiful city, Hoi An, the city of a thousand lanterns.
On one of the last evenings, the stories continued. East-West German biographies and the North-South experiences concerning Vietnam were exchanged. And there are more than two Germanys that became visible.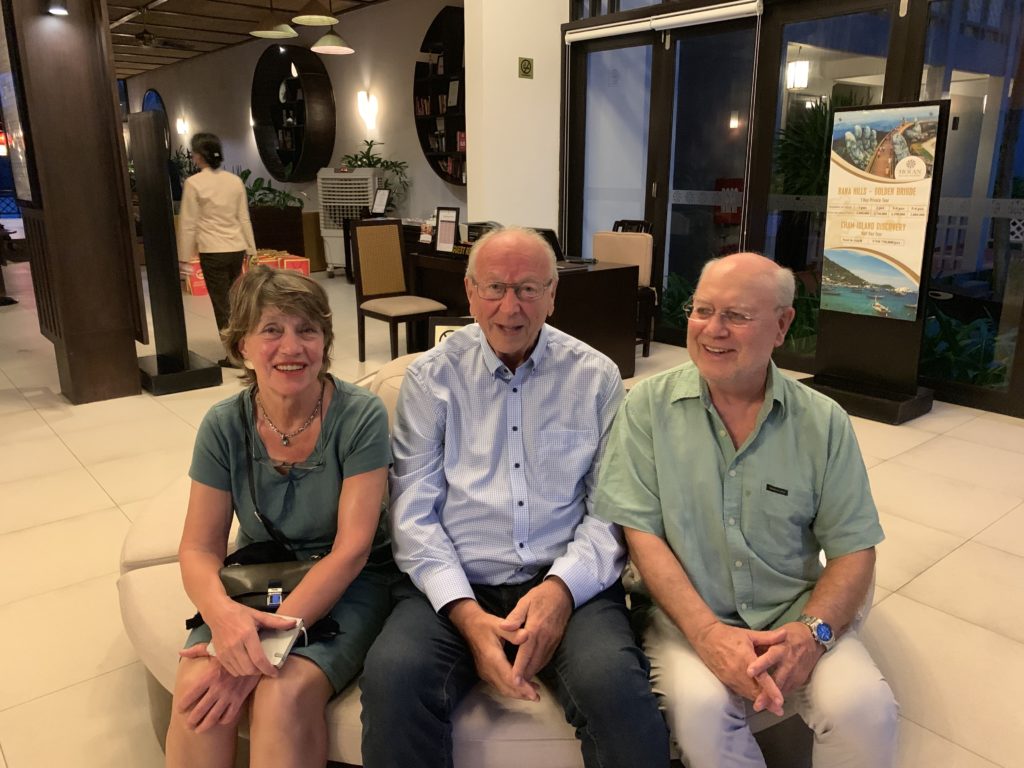 From this trip, a friendship developed between Thomas Billhardt and us, and he just sent me his newly published illustrated book "Hanoi 1967 -1975", initiated and supported by the Goethe-Institut Vietnam and published by Nhã Nam/Vietnam 2020, crowning his life's work.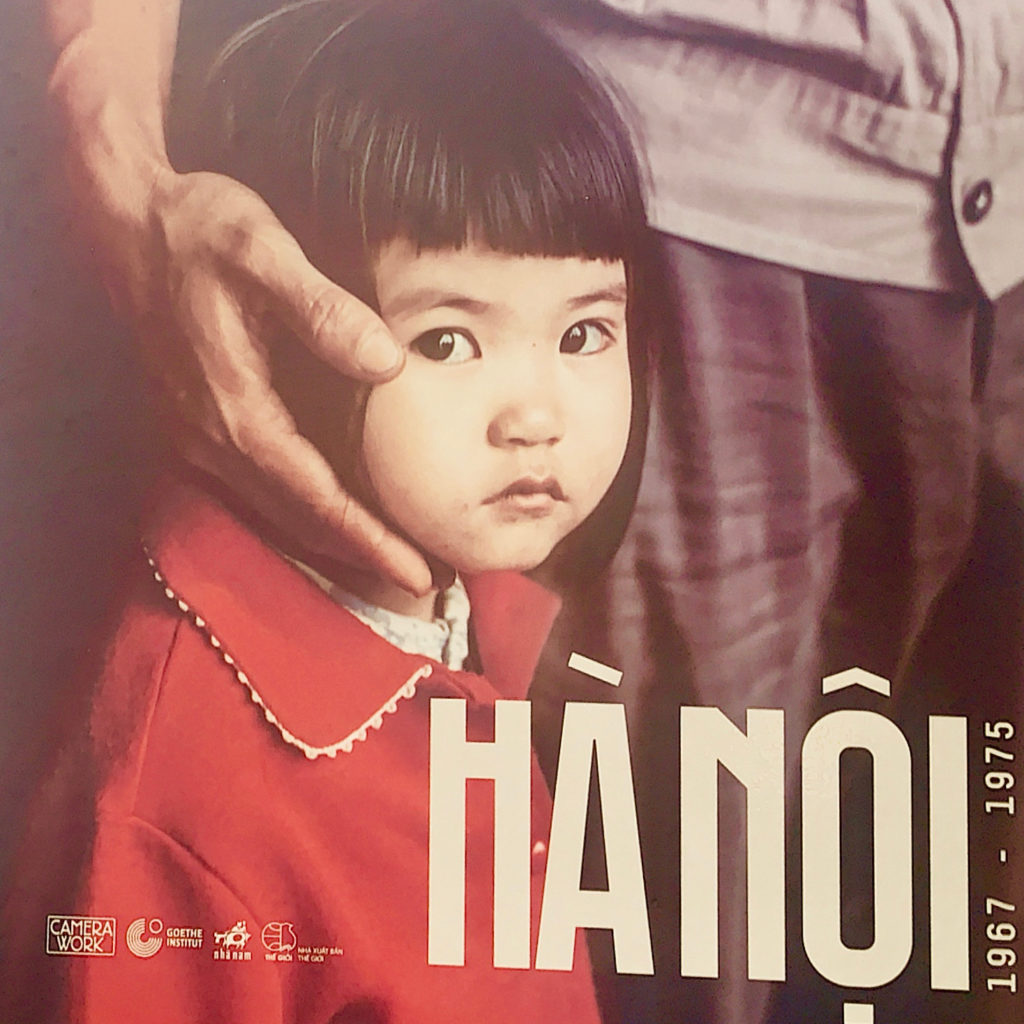 ISBN 978-604-77-8377-9
All pictures © by Burkhard Mielke, all rights reserved, commercial and private use prohibited.
English translation editor : Dr. Marilyn C. Terranova, NY